The Latest
Creating Your Mood Board with The Design Files
If you've been a lover of interiors for even the shortest amount of time, there's no doubt you would have come across The Design Files. Founded by Lucy Feagins, The Design Files is one of Australia's most coveted and popular design publications, showcasing Australian homes, interiors, homewares, food and more.
Have you ever wanted to get inside the minds of creatives like Lucy and The Design Files team, and see how they would go about designing an interior space? Well, you've come to the right place. Below, Lucy and the team at The Design Files offer their top tips when it comes to how they create their mood boards on Style Sourcebook and explain how you can turn your home inspiration into a reality. The team have based their mood board off one of The Design Files favourite homes, a stunning Ivanhoe renovation designed by Sarah Conly.
The Design Files Tip 1: Start with a space that inspires you
The best place to start when it comes to creating your mood board is to find an image of a space that inspires you. This can help shape the creative direction of your project and the style you're wanting your mood board to have. Lucy explains, "Kick off the creative process by collecting reference images of spaces that inspire you. You don't need to go crazy, two or three pics is a great start!"
The Design Files Tip 2: See what catches your eye first
While starting with an inspiration image is a great place to start, the next step is defining what about your chosen inspiration image catches your eye first. Is it the colour palette, a particular material used or a certain piece of furniture? This will help you know what specific components you need to find to re-create a similar look within your mood board.
The Design Files Tip 3: Source your biggest items
Now the fun part begins (okay, we might be a little biased but actually starting to create your mood board is pretty fun). The Design Files team suggests starting by searching for the biggest items you need for your room. This could be a couch, bed or dining table. Lucy adds, "In Sarah's living room (adjoining the dining area) there is a gorgeous oversized leather couch, complemented by textural cane armchairs and a vintage-style rug underfoot. Within Style Sourcebook we searched for 'leather sofa' and 'cane chairs', and selected our favourite pieces". Simply drag and drop your biggest items onto the mood board canvas and don't worry too much about styling or placement at this stage.
The Design Files Tip 4: Add personality with paint, finishes and decorative details
It's time to start adding personality to your mood board by adding in your paint colours, finishes and other decorative details. Think cushions, artwork, glassware and ceramics - anything that you'd like to use to style and add the finishing touches to your space. The Design Files team explains, "Use the 'paint + finishes' drop-down menu to choose paint colours, tiles and other finishes. Then, use the 'products' tab to add finishing touches. Under 'decor' you'll find artwork, cushions, ceramics, glassware and more".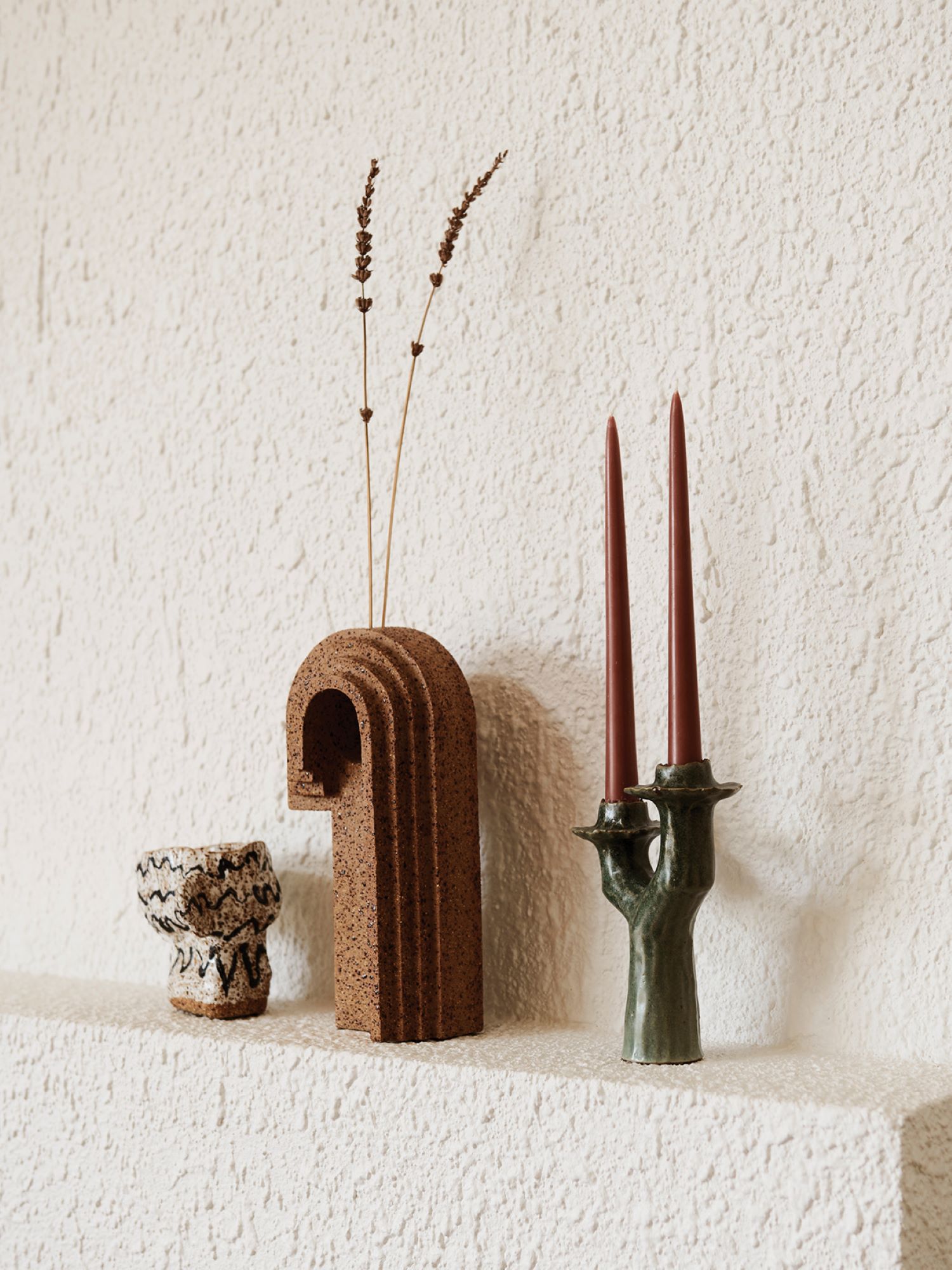 The Design Files Tip 5: Make your mood board beautiful
Now that you've refined your style, sourced and collected everything you need to create your dream space, it's time to start making your mood board beautiful. That means grouping items and placing them in 'zones', overlapping items using the 'back' and 'forward' buttons and making the layout of your mood board feel more like it is to a scale that mimics a real life space. Lucy adds, "When placing items on the mood board, consider scale. Generally speaking, try to keep things at a scale that makes sense in the real world – you don't want a giant pot plant towering over a tiny armchair. It's ok for items to be cropped – a large couch might be too big to fit on your mood board, so it's fine to have it cropped out of the frame on one side (as we have done here), and a pendant light always look good dropping in from above!
Once you have completed your mood board, it's time to save, download and share with your family and friends.
There you have it, a step-by-step guide from some of the best in the interior and homewares industry on how to turn your home inspiration into a reality using Style Sourcebook and our mood board tool. Start creating your mood board here.